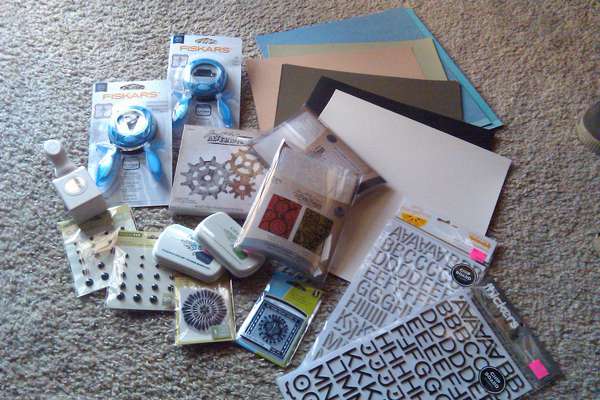 Oh, hi!
One of my favorite holidays is, definitely, PAY-DAY FRIDAY. Sometimes abbreviated as PDPF- which isn't really shorter to say, but is a heap of fun to say! Sometimes I format the spelling differ-oh, anyways- So-
"WHAT IS PAYDAY FRIDAY?"
Oh come on, you know what it! It's that special, magical holiday that occurs whenever you get paid! Whether it's a biweekly holiday, like mine- or a monthly holiday for a government employee, or just whenever the money gets thrown on the dresser as your, um, 'employer' finishes getting dressed to head home to his wife- THAT, my friends, is PAYDAY FRIDAY!
How do I celebrate this glorious day? With shopping binges at my favorite crafting meccas: Hobby Lobby! Hobby Lobby Outlet! Micheals! Home Depot! Byron's Liquor Warehouse!
I went a bit overboard, this weekend. I began at the Hobby Lobby outlet, which is actually called BASKET MARKET- but I still just call it the HL OUTLET, cuz, that's what it is... More on this trip, later but soon, because that's my upcoming SURRRRPRIZE!
One of the highlights of my weekend was visiting the newly opened JOANN, at Northwest Expressway and Rockwell, here in beautiful OKC. Our former Joann was 'down the street.' It was one of those 'antique' Joanns- with barely room for a sad fabric collection and a few sadder pads of DCWV paper packs... The 'NEW' Joann, I'm excited to note, is large and in charge!
When I spotted all the fully stocked shelves, I think I gasped a little- but when I saw all of Mr. Holtz's dies and texture fade embossing packs- WOW! My eyes lit up like a methhead finding a crate of Sudafed!
And, as usual, my insane rationalizing crafter's mind took over. Some people will say, "Well, since I'm buying this die, I will wait until next PAYDAY FRIDAY to buy this nice embossing folder..."
My mind says, "If you're going to spend 20.00, you might as well spend 40.00!" Yeahp, my little internal BAD IDEA BEARS were running on overdrive! See the photo of that shopping haul? Please don't surprise me with a televised intervention.
Coming soon: The NEXT EXCITING EPISODE of KORY K's PAINT CHIP PARTY!